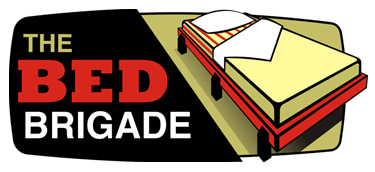 Have we got some news for you!! One of the most exciting missions you're going to hear about these days is happening right here at Greensburg UMC, and it's called Bed Brigade, just in case you haven't heard about it already! It is all about making and delivering beds to kids who don't have beds of their own.
Sadly, there are more kids in that category than we ever imagined.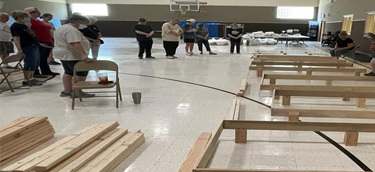 After our resident Lumber Jacks pre-cut the wood, the bed frames are put together, currently right in our church's gym. We then deliver the finished beds all with complete sets of bedding, to some very happy kids.
We are partnering with Jackson and Green Local Schools, Summit DD, OPEN-M, Harmony House, and others to identify people in need of beds. We are partnering with the PLCC Building Trades program and Broc Bidlick (from Dalton) to build frames. It is time to devote another morning assembling frames and bedding for the (over 80 usable) mattresses that we received this summer so we are ready to deliver beds when they are requested.
Thanks to everyone who has helped make so many individuals and families enjoy a restful sleep, if you are keeping count, that make over 100 beds delivered to date! We praise God for the Bed Brigade Team, every individual and all the support provided to this mission. May we all have the grace, strength, and resources to continue to better meet the needs around us. .
Also, we need bedding, Twin XL sheets (with pillow cases) Twin XL mattress pads (zippered ones that enclose the entire mattress are preferred) Bed pillows and blankets.
THe next build will in January 9th 2024 in the gym. More details to come soon
Bed Brigade of Greensburg UMC focuses on providing beds to children of Summit and Stark counties. However, we will serve all who request our help. We continue to seek out and contact families in our service area who are in need of beds. If you know of anyone or would like to volunteer to help in this mission. Please fill out the appropriate form below.
Request A Bed
Volunteer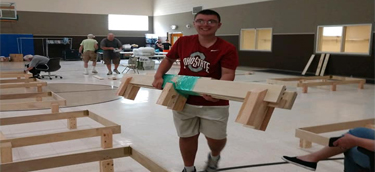 For more information on our Bed Brigade Ministry, call the church office or send an email to
bedbrigade@greensburgumc.net