Children's Ministry
Due to COVID-19 we recommend contacting the church office about any events listed on this page for the latest information and any changes.
Our Children's Ministry exists to sow seeds of faith in order for children to not only nurture the community, but to produce compassion, and grow in the Son. We offer a variety of programs for all ages of children. Sunday School meets every Sunday morning from 10:00am-11:00am. Our nursery is always open for any parent that may need it.
Three year olds through Kindergarten are encouraged to go to the Preschool Room (Room 205) for Sunday School. This room is also available during both worship services.
The first through third grade class meets in room 202 and the fourth grade class meets in room 111. Children of all ages learn about how much God loves them through stories, crafts, reading the Bible, and occasional videos. We have a combined age group class during the summer months of June, July and August in room 111.
Junior Worship
Junior Worship is held during the 11:00 service in the chapel and in room 111 and is led by Mrs. Hodges. Through Junior Worship, children are able to experience worship that is aimed at their age group. They actively take part in the service as ushers, greeters, and liturgists. This is offered to all children in Kindergarten through the fifth grade.
Easter Egg Hunt
We have a special Easter Egg Hunt each year around Easter. Children of all ages are welcome to join us as we celebrate Jesus' Resurrection. Don't miss a chance to invite a friend to this EGGstraordinary family experience. After some EGGmazing food, Face-painting, and Balloon Hopping kids will hunt for their eggs by age group in a fun age appropriate environments. Our littlest friends will "hunt" in an open space that mom and dad can help out with, while the bigger kids are racing through in a heightened speed race! Every kid leaves with candy and prize filled eggs, and a goody bag. Don't worry about the forecast, rain (or snow) or shine, we're hunting!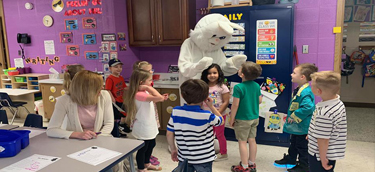 Vacation Bible School
Vacation Bible School is held one week during the summer, This fun event is for children 3 years old-going into 6th grade. VBS offers Bible stories, music, games, crafts, and snacks all with a biblical meaning to go with the year's theme. If you missed this years Virtual VBS, we hope you can join us next summer!
Kids Night In=Parents Night Out
Parent's Night Out is our big celebration for children of all ages. This is a great time for fellowship for the kids as parents are able to have a night out to themselves to go to dinner or even RELAX. We focus on learning about key figures in our Christian Faith with stories, games and crafts, and we serve dinner! The Nursery is open for children ages newborn to two years old all morning on Sundays. Preschool care is also available for ages three to kindergarten.
For more information on our various Children's Ministry Programs, feel free to call the church office at 330-896-1936 or send an email to
office@greensburgumc.net